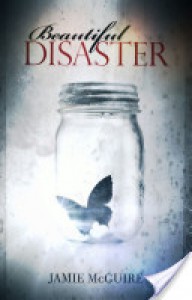 I began reading "Beautiful Disaster" knowing that the characters probably had a broken past or their share of daddy issues. Classic tragic romance stuff. But holy cow, I didn't except a classic dark, romantic outline to be done with such a twist. Everything I love about a romance was there. By far, the best romance novel I've ever read. McGuire's characters are flawed but so passionate and fiercely raw that I found myself staying up until 6 in the morning just to know what happens! Abby Abernathy isn't the usual innocent female protagonist you find in a majority of romance novels. She has an edge to her that few people know about. She moved to Eastern University to escape her past but Eastern's popular ladies' man, Travis Maddox sets his eyes on Abby and suddenly she's falling for the very guy who reminds her so much of the past she's trying to escape from.
Travis and Abby are anything but perfect.
They're a beautiful disaster.
I don't usually "fan-girl" but this book had me near tears at some points and then giggling like a school girl at others. I fell totally in love with the characters and their personal stories. I loved this book!